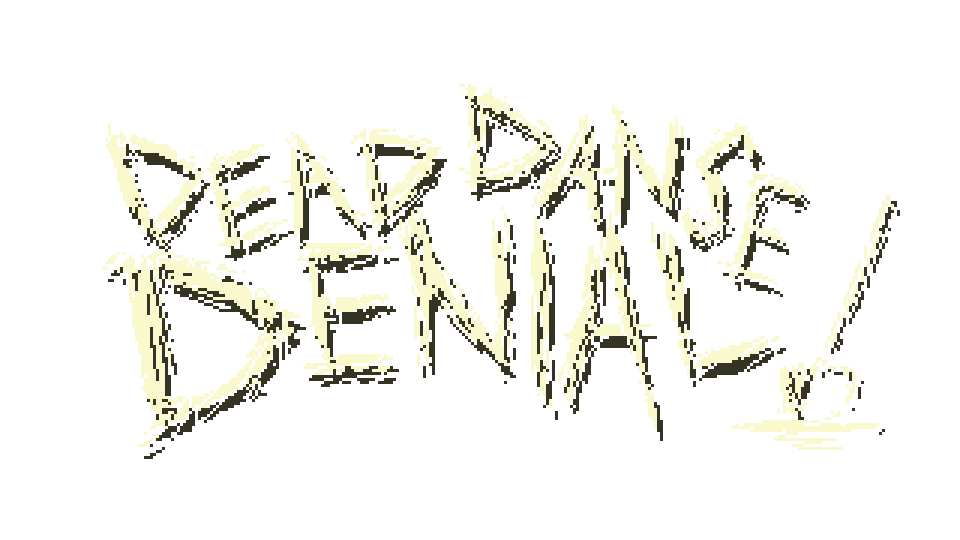 DEAD DANSE DENIAL!
Dead Danse Denial v1.2 released!
---
It's been two years since I originally released Dead Danse Denial on itch, and so I figured I'd celebrate its birthday by releasing it again!
Coming back to this game after two years was a bit nuts. The game code is a mess and I'm an awful programmer.
I wanted to 'fix' the game as best I could, so I corrected a few annoying bugs (and probably created a bunch more) and added some new stuff while keeping the original game as it was.

The changes:

- The game is now playable in-browser via HTML5. I couldn't be bothered to figure out how to get full-screen stuff to place nice, so the game is locked into a 540p(ish) window on the page. Sorry, eh... download the game for fullscreen play, I guess?

- There is now a third, 'perfect' ending (game state) for skillful players to discover.
- I've added an 'Extras' folder among the game files. It contains some desktop wallpaper, game icons, and behind-the-scenes nonsense. Just some dumb fun stuff to share, if you're interested. You can find it wherever you've installed or extracted the game to on your system.

Other thoughts:

I hoped to post a dedicated Linux version of the game alongside this note, but have encountered a couple frustrating issues that prevent me from releasing that version in good conscience. It's something I'd like to do in future, but I'm not there yet.
The game seems to play well via Steam's Proton compatibility layer, so that is the way I suggest you play for the time being. I don't expect you to go through the trouble of buying a Steam Deck or compiling Proton on your distro-of-choice just for this goofy little game, but if you have the hardware or set-up, please do give it a shot.

A Mac OS port is not likely unless a Mac computer falls into my lap, which it won't. My computing needs are well met by what hardware I already have and I can't be bothered to buy more. I have no real, tangible reason to enter the Mac ecosystem at this time. It's too much of a cost sink to do the things I already do in computing.
I wish I had more to show for these past two years. I've had a number of other games in the works, but none of them exist in a state worth releasing, much less talking about. These past couple years have been particularly difficult for me. I've lost some important people in my life, and the loss has affected me greatly.

I've placed a dedication to them in this game. I hope you don't mind.
Anyway, despite my current lack of demonstrable output, game development is still a hobby I enjoy and it's something I want to continue into the future. If you've enjoyed Dead Danse, please stay tuned for more games to come. I do hope this is only the beginning for me here.

Thank you for reading. Have a safe and happy holiday season. Good bye!

Files
DEAD DANSE DENIAL (installer)
29 MB
45 days ago
DEAD DANSE DENIAL (zipped)
16 MB
45 days ago